Big Walter Horton, a.k.a. "Shakey" Horton, (1921-1981) was one of the leading blues harmonica players of the mid 20th century. Willie Dixon called him "the best harmonica player I ever heard."
Although Big Walter Horton occasionally recorded as session leader, he was typically featured in a backing role.
Big Walter Horton was born in Horn Lake, Mississippi and died in Chicago. He is buried in Restvale Cemetery, Alsip, Illinois.
Here are some websites with more information about Big Walter Horton:
Here are some videos of Big Walter Horton:
A short video of Big Walter Horton explaining his technique:
1965 TV recording of Big Walter Horton, John Lee Hooker and Buddy Guy backing Big Mama Thornton
1970 TV recording of Willie Dixon and Big Walter Horton performing Willie Dixon's My Babe, which was recorded by Little Walter.
Backed by Willie Dixon and others at the American Folk Blues Festival, Copenhagen, 1970
A live performance, 1971. Note: audio only; no video.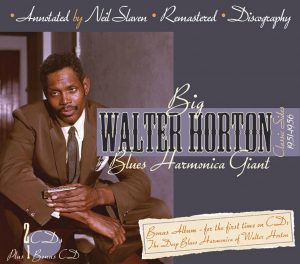 Would you like to leave a comment or question about anything on this page?