Willie Mae "Big Mama" Thornton (1926-1984) was the first vocalist to record Leiber & Stoller's Hound Dog, later recorded and popularized by Elvis Presley. Her composition Ball And Chain, written in 1961, was later popularized by Janis Joplin on the Big Brother And The Holding Company album Cheap Thrills, released in 1967.
BIg Mama Thornton was born in Ariton, Alabama.
She began singing in church and began her professional performing career in 1940 with Sammy Green's Hot Harlem Revue, where she was billed as The New Bessie Smith." In 1951 she signed a recording contract with Peacock Records, for which she recorded the original version of Hound Dog.
HerBiography.come are some websites with more information about Big Mama Thornton:
Here are some videos of Big Mama Thornton:
1965 TV show featuring Big Mama Thornton backed by John Lee Hooker, Buddy Guy and Big Walter Horton
Performing her composition Ball And Chain with Buddy Guy in 1970
1971 documentary about Muddy Waters featuring performances by Big Mama Thornton, Big Joe Turner and George "Harmonica" Smith.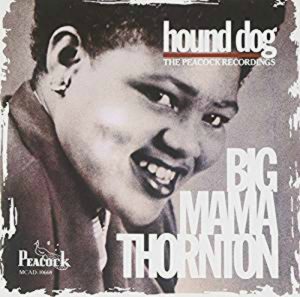 Would you like to leave a comment or question about anything on this page?