The Mississippi Country Music Trail marker commemorating Elsie McWilliams is outside the Lauderdale County Courthouse on Main Street at 20th Avenue in Meridian, Lauderdale County, Mississippi.
The GPS location of the Elsie McWilliams marker is: N 32° 21.901′ W 88° 41.907′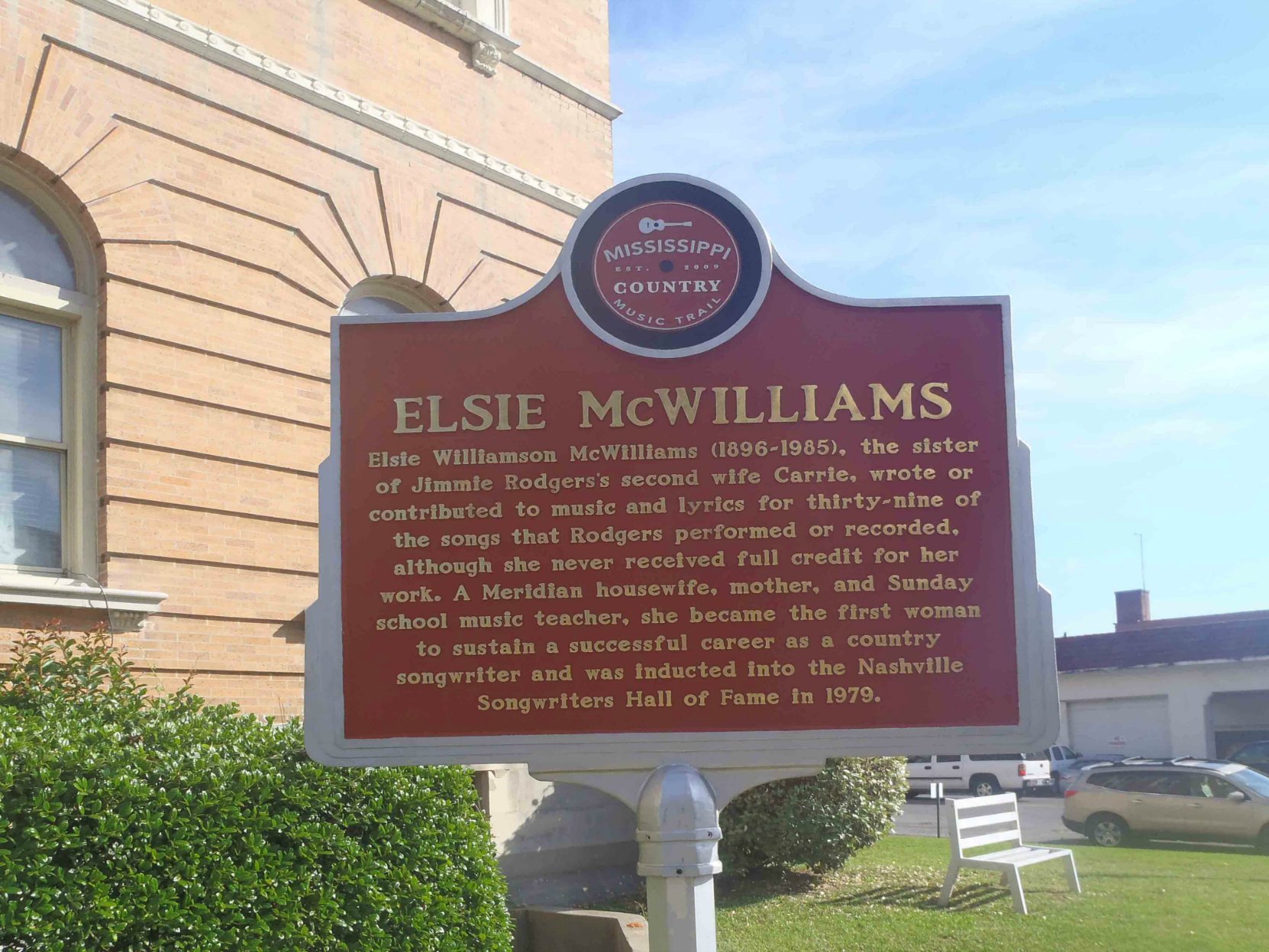 The front of the marker reads:
"ELSIE McWILLIAMS – Elsie Williamson McWilliams (1896-1985), the sister of Jimmie Rodgers' second wife Carrie, wrote or contributed to music and lyrics for thirty-nine of the songs that Rodgers performed or recorded, although she never recieved full credit for her work. A Meridian housewife, mother, and Sunday school music teacher, she became the first woman to sustain a successful career as a country songwriter and was inducted into the Nashville Songwriters Hall of Fame in 1979."
Among the songs Elsie McWilliams wrote or co-wrote with Jimmie Rodgers include: "My Old Pal" (1928), "The Sailor's Plea" (1928), "You and My Old Guitar" (1928), My Little Lady (1928, "Never No Mo' Blues" (1928), "Mississippi Moon" (1928), "Everybody Does It in Hawaii" (1929), Tuck Away My Lonesome Boys (1929), Yodeling Cowboy (1929), My Rough And Rowdy Ways (1929), "I've Ranged, I've Roamed, I've Traveled" (1929), Nobody Knows But Me (1929), Anniversary Blue Yodel (1929), She Was Happy Till She Met You (1929), That's Why I'm Blue (1929), The Wonderful City (1931), Mississippi Moon (1932), "Home Call" (1932).
Other artists who have recorded Elsie McWilliams' songs include: Ernest Tubb, Bill Brunner, Merle Haggard, Doc Watson, Bob Wills and the Carter Family.
There is a Mississippi Blues Trail marker a few blocks away from this marker which commemorates Jimmie Rodgers & The Blues. The GPS location of the Jimmie Rodgers marker is: N32° 21.912′ W 88° 41.691′
There is another Mississippi Country Music Trail marker nearby in Dumont Plaza, at 22nd Avenue and 4th Street, which commemorates the Jimmie Rodgers Festival. The GPS location of that marker is: N 32° 21.806′ W 88° 41.982′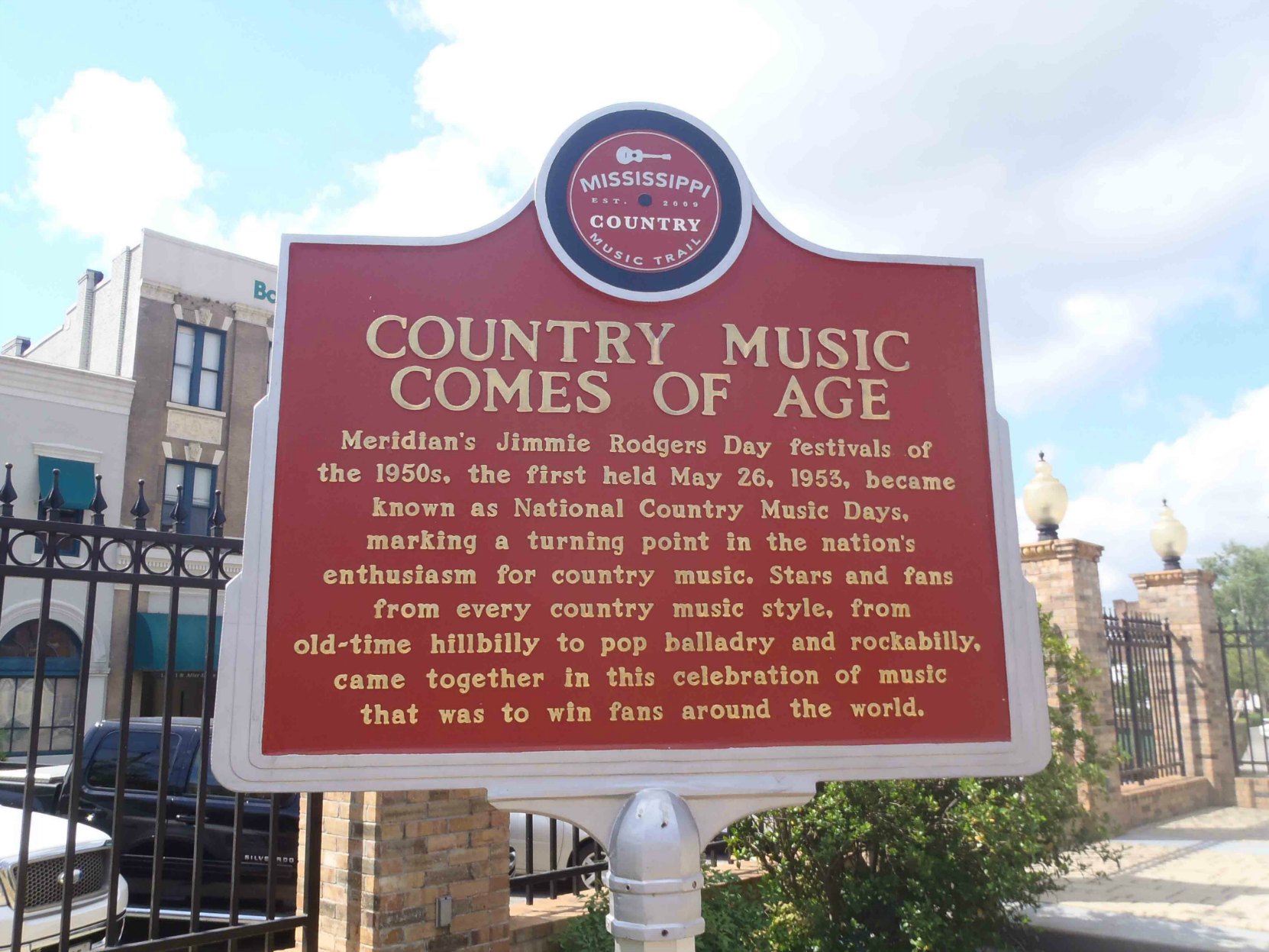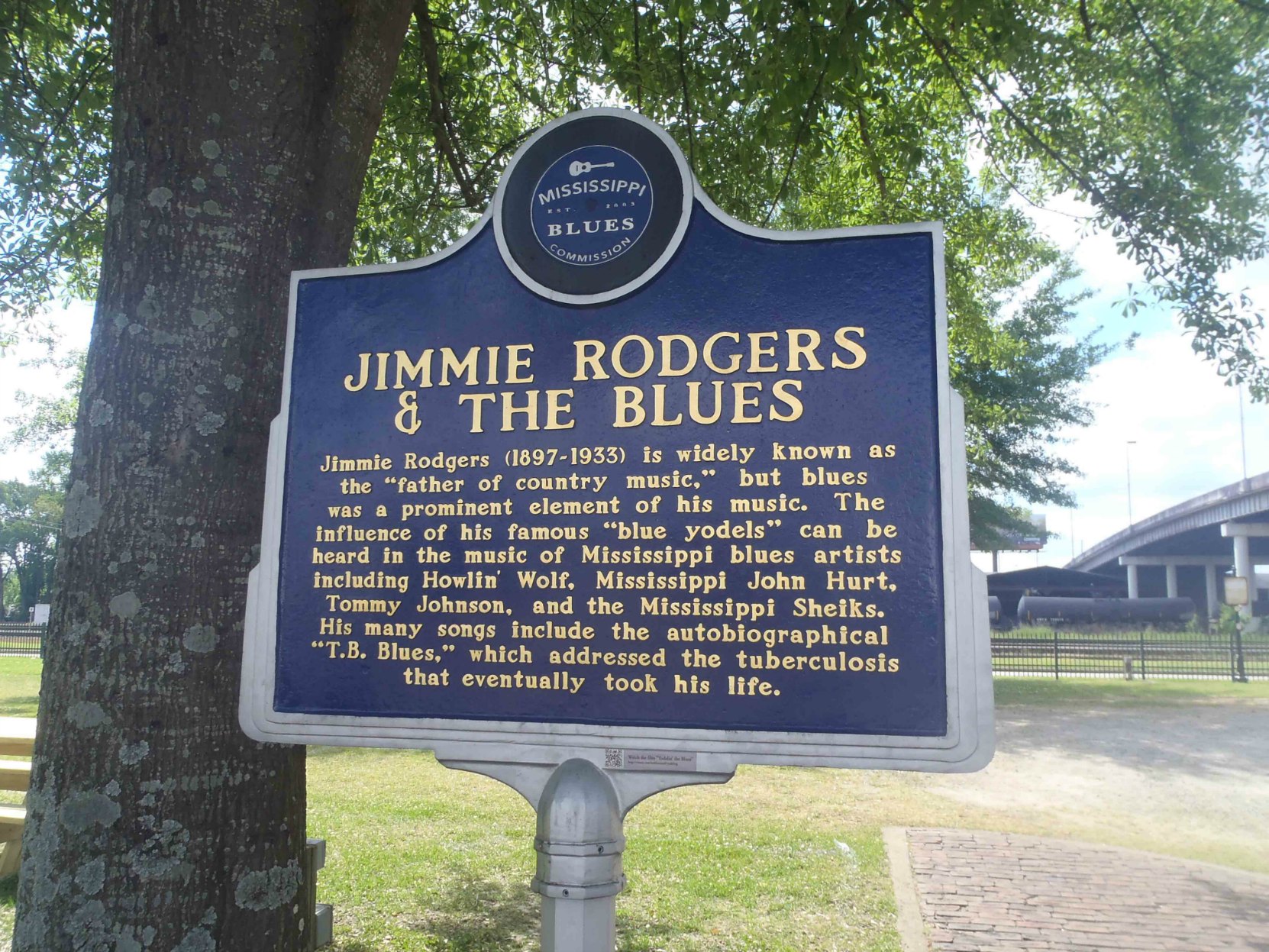 Would you like to leave a comment or question about anything on this page?