Alamo Theatre, Farish Street, Jackson, Mississippi
The Mississippi Blues Trail marker commemorating the Alamo Theatre is in front of the theatre on Farish Street, Jackson, Mississippi.
The GPS location of this Mississippi Blues Trail marker is: N 32° 18.246′ W 90° 11.320′
The marker reads:
"THE ALAMO THEATRE – The Alamo Theatre opened at this location in 1949. Prior to that the Alamo occupied two other spots in the area. The theatre showed movies, hosted musical competitions, and presented blues and jazz concerts by artists such as Nat "King" Cole, Elmore James, Louis Jordan, and Cab Calloway during the 1940s and 1950s. Gospel groups and vocal emsembles also performed. Local resident Dorothy Moore's many victories at Alamo talent contests ultimately led to a successful recording career."
Here is a map showing the location of the Alamo Theatre:
Here is a Google Street View image of the Alamo Theatre:
Other Farish Street blues sites worth seeing are:
former Ace Records headquarters at 241 Farish Street;
former Trumpet Records headquarters at 309 Farish Street;
Other Mississippi Blues Trail Sites Nearby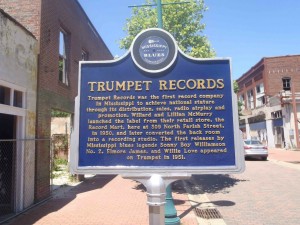 Trumpet Records operated from 1951-1954 and released the first recordings of Sonny Boy Williamson and Elmore James.
Read More…
Here are some more articles about Farish Street:
Would you like to leave a comment or question about anything on this page?