This Mississippi Department of Archives and History marker commemorating the Battle of Port Gibson is located in a small park at the intersection of Market Street and Carroll Street in the historic district of downtown Port Gibson, Mississippi.
The GPS Location of this marker is: N 31° 57.561′ W 90° 59.094′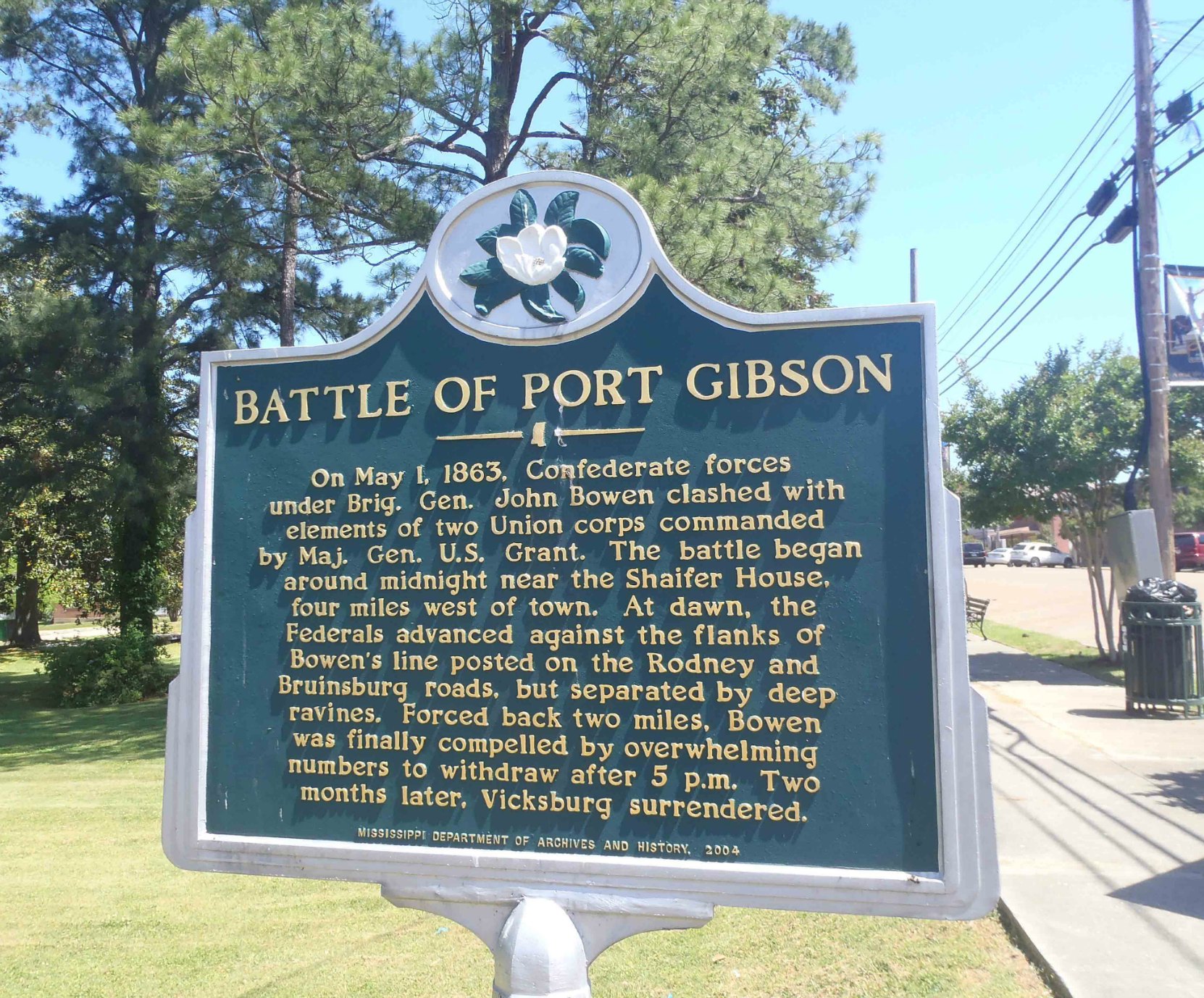 This marker reads:
"BATTLE OF PORT GIBSON – On May 1, 1863, Confederate forces under Brig. Gen. John Bowen clashed with elements of two Union corps commanded by Maj. Gen. U.S. Grant. The battle began around midnight near the Shaifer House, four miles west of town. At dawn, the Federals advanced against the flanks of Bowen's line posted on the Rodney and Bruinsburg roads, but separated by deep ravines. Forced back two miles, Bowen was finally compelled by overwhelming numbers to withdraw after 5 p.m. Two months later, Vicksburg surrendered."
There is also a Mississippi Blues Trail marker across the street commemorating the Rabbit Foot Minstrels and another Mississippi Department of Archives and History marker on Walnut Street, a block from this Battle of Port Gibson marker, commemorating the Bernheimer Complex, a collection of 19th and early 20th century residential and commercial buildings developed by Samuel and Jacob Bernheimer, two prominent businessmen of the period.
There is also another Mississippi Department of Archives and History marker, commemorating Claiborne County, in front of the Claiborne County Courthouse, a few blocks from this marker.
Here is a Google Maps image of this site:

Would you like to leave a comment or question about anything on this page?