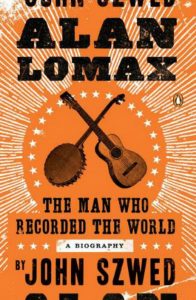 Alan Lomax (1915 – 2002) played a major role in recording Delta blues artists from the 1930's to 1978.
In the 1930's he worked with his father, John Lomax. They made a trip through the southern United States in which they discovered and recorded Huddy Ledbetter in Angola State Penitentiary in Louisiana.
In 1941 and 1942, he made recording trips to Mississippi for the Library of Congress, which resulted in recordings of Muddy Waters, Son House, David "Honeyboy" Edwards and others.
He made the first recordings of Muddy Waters (1941-42) at Stovall Farm near Clarksdale.  He also made historic recordings of Son House in Tunica County 1941 and 1942. He also recorded David "Honeyboy" Edwards (1942) and other Delta bluesmen.
Here are some of the highlights of Alan Lomax's career which relate to Mississippi and the Delta blues.  Continue reading Alan Lomax – Some Sites Associated With Alan Lomax Sessions