This Mississippi Blues Trail marker for "Cotton Pickin' Blues" stands at the entrance to Hopson Farm on Highway 49, southeast of Clarksdale in Coahoma County, Mississippi.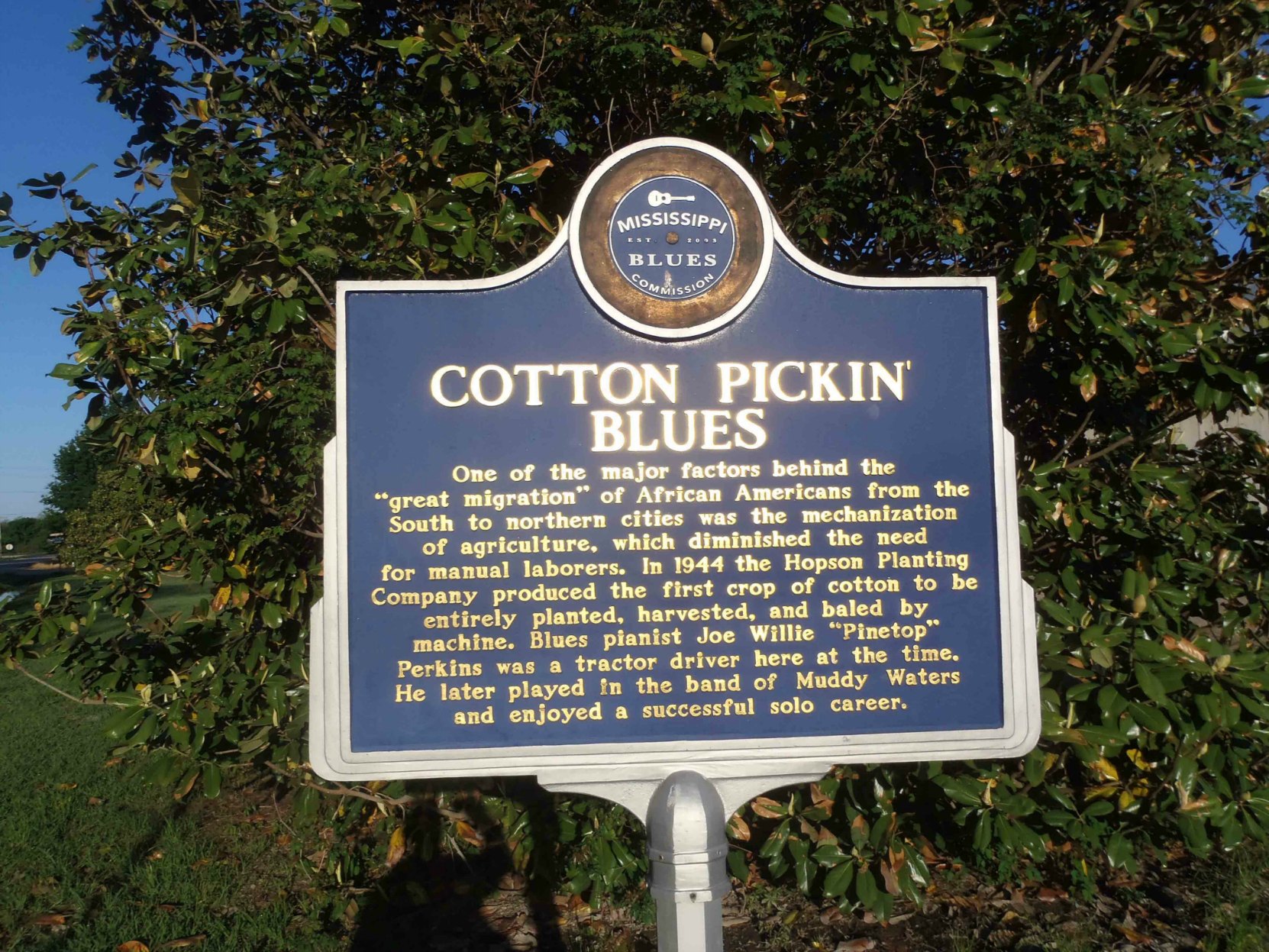 The GPS location of the markers is: N 34° 09.524′ W 90° 32.792′
The marker reads:
"COTTON PICKIN' BLUES – One of the major forces behind the "great migration" of African-Americans from the South to northern cities was the mechanization of agriculture, which diminished the need for manual laborers. In 1944 the Hopson Planting Company produced the first crop of cotton to be entirely planted, harvested and baled by machine. Blues pianist Joe Willie "Pinetop" Perkins was a tractor driver here at the time. He later played in the band of Muddy Waters and enjoyed a successful solo career."
The mechanization of cotton production had a major effect on U.S. demographics. Mississippi's population declined significantly as former farm workers, predominantly African-American, moved to northern U.S. cities like Chicago in search of employment.
For decades, Mississippi's population remained below its mid-1940 peak, before large scale agricultural mechanization caused the migration of workers to other states.
As we have commented elsewhere on this site, many small towns in Mississippi show signs of economic hardship; many buildings are boarded up and derelict. Many people we spoke to in Mississippi told us this economic decline started in the late 1940s and early 1950s, following the large scale mechanization of agriculture, as a significant portion of Mississippi's population left the state in search of work. Many small towns in Mississippi have never fully recovered from this decline in population.
Just across Highway 49 from the Hopson Farm entrance and its Mississippi Blues Trail marker, the Mississippi Department of Archives and History has placed another marker commemorating the introduction of large scale mechanization in cotton production.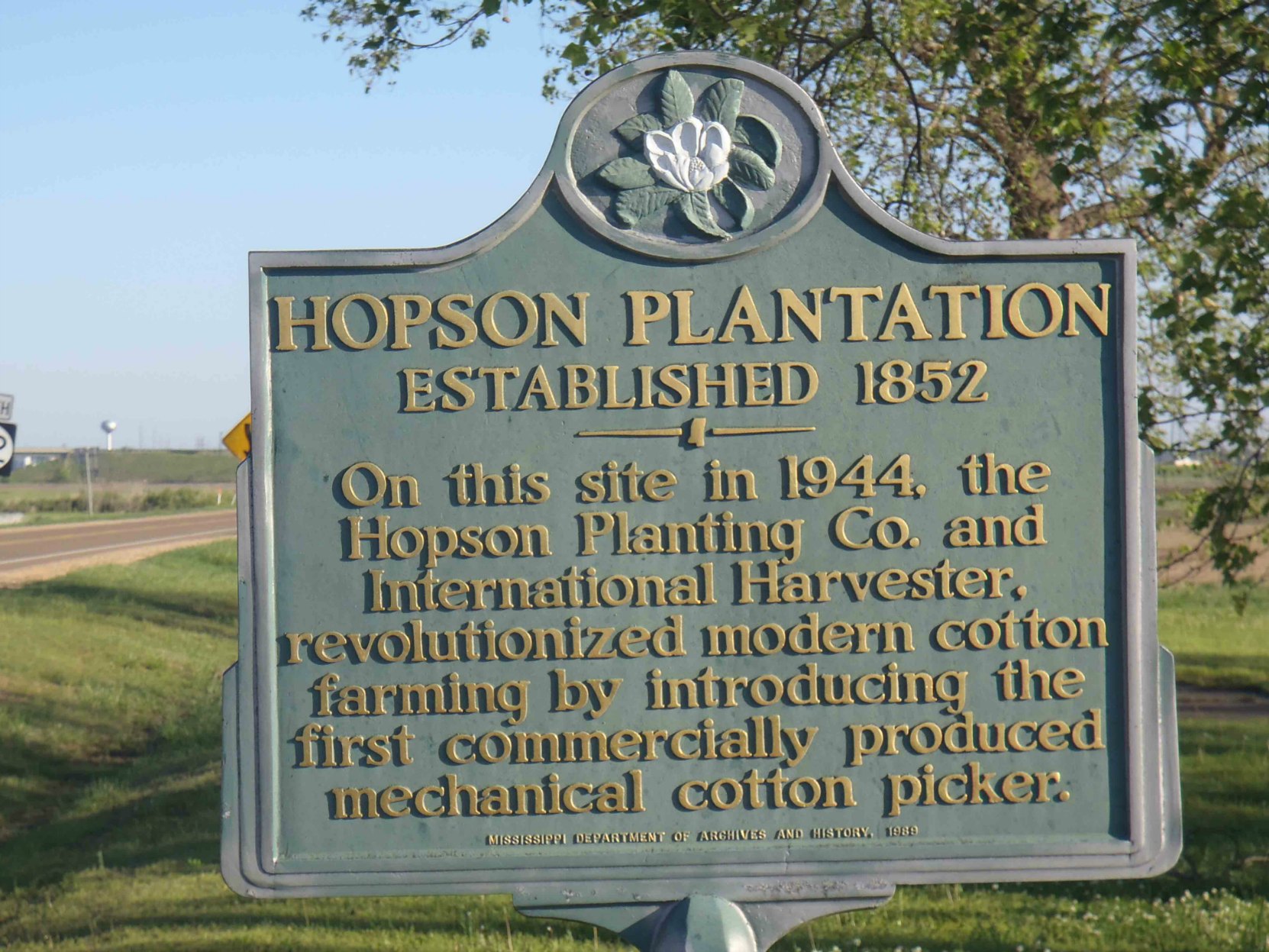 This marker reads:
"HOPSON PLANTATION – ESTABLISHED 1852 – On this site in 1944, the Hopson Planting Co. and International harvester, revolutionized modern cotton farming by introducing the first commercially produced mechanical cotton picker."
Unlike the Mississippi Blues Trail marker directly across Highway 49, this marker makes no mention of the economic and demographic consequences of the large scale mechanization of Mississippi agriculture.
Here is a link to a video showing the latest mechanized cotton harvesting methods.
Hopson Farm is still an active agricultural operation. The photo below shows the former Commissary building, near the Mississippi Blues Trail marker at Hopson Farm.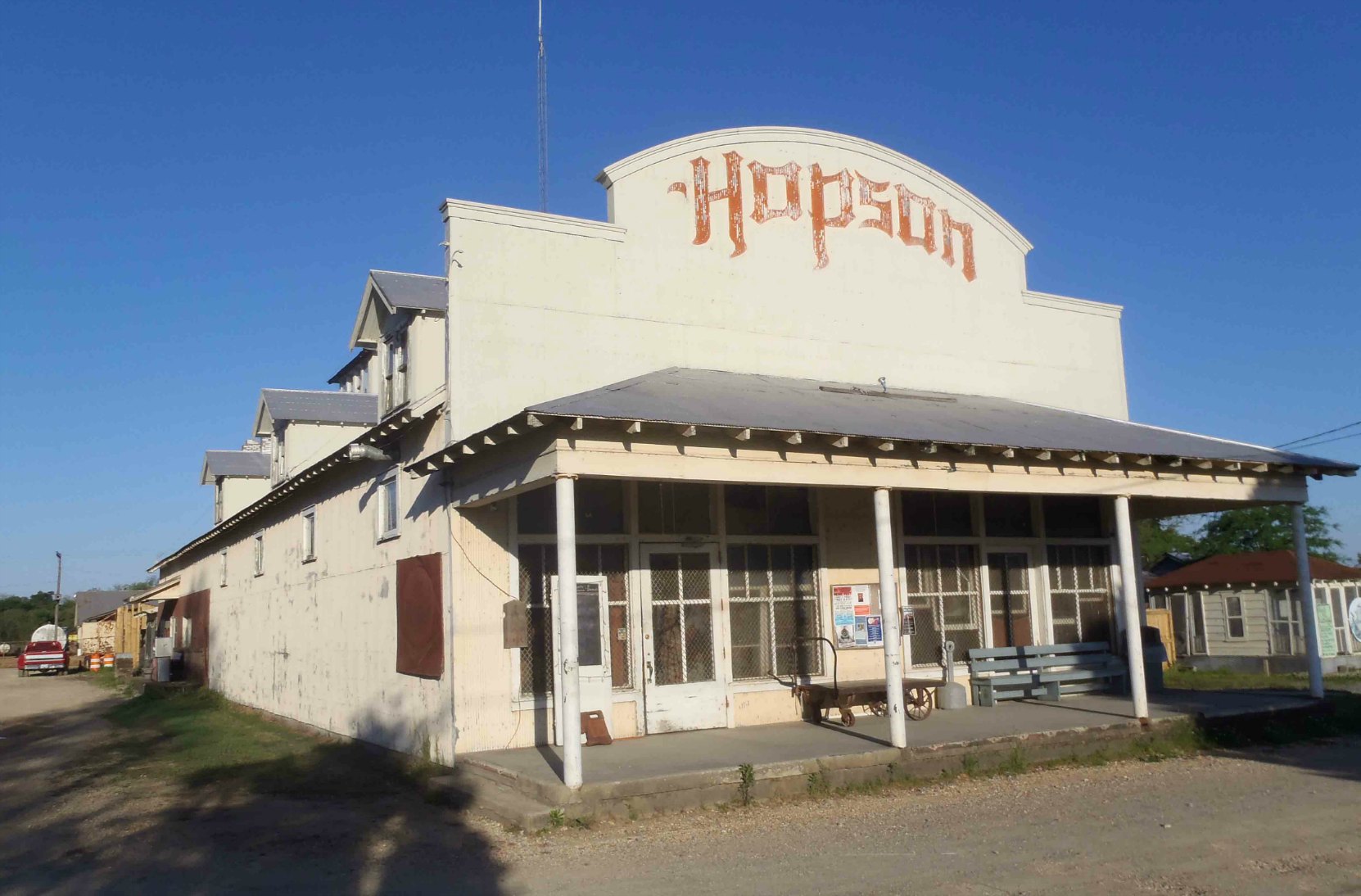 Some of Hopson's agricultural buildings and former sharecroppers' shacks have been converted into a hotel called the Shack Up Inn. It's on our list of recommended accommodation.
The Hopson Commissary is now a blues venue. Here are some videos of performances at the Hopson Commissary.
Would you like to leave a comment or question about anything on this page?