Chuck Berry (1926-2017) is one of the most influential artists in blues history. His music was extremely important in the development of modern rock n' roll and many of his songs are standards.
Here are some websites with more information about Chuck Berry:
Here are some videos of Chuck Berry:
Belgian TV performance, 1965
Toronto Peace Festival, 1969
London, U.K., 1972
Roxy Theatre, Los Angeles, 1982
On the Tonight Show with Johnny Carson, 5 November 1987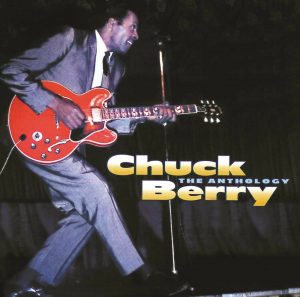 The Anthology – a 2 CD set on MCA Universal which contains all the classic Chuck Berry recordings on Chess Records. Good sound, reasonable price.
Would you like to leave a comment or question about anything on this page?